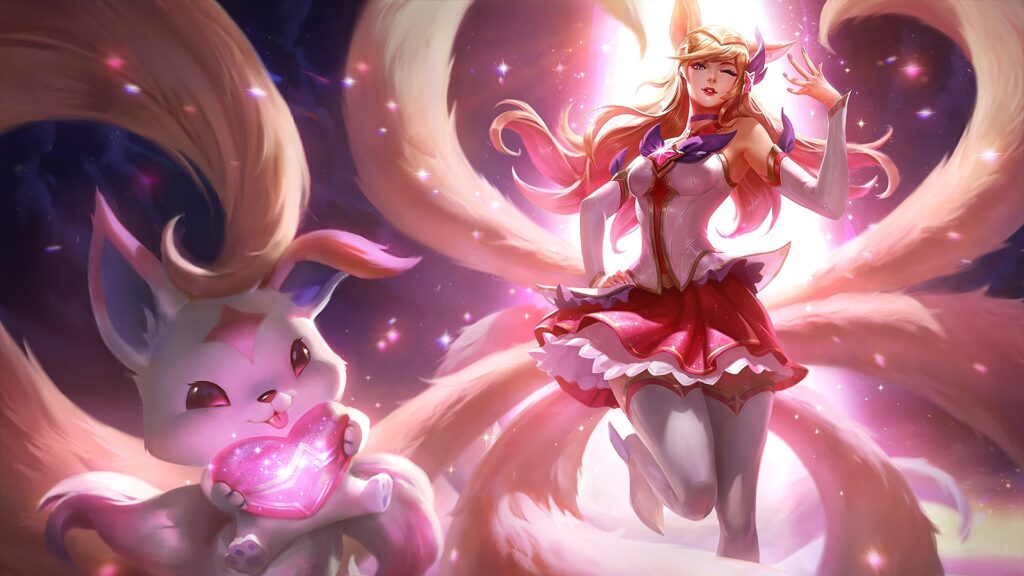 Features: New visual effects, New sound effects, New animations, New recall, Chromas, New Voice-over
| | |
| --- | --- |
| Skin Line | Star Guardian Season 2 |
| Release | September 7, 2017 |
| Splash art Artist | alexplank – Alex Flores, Curing – Jean Go, Esben Lash Rasmussen, Alvin Lee, Pan Chengwei |
| Concept artist | Zeronis |
| Price | 1820 RP |
| Type | Legendary |
| Voice Actor | Laura Post |
| Availability | Loot eligible |
Video Star Guardian Ahri
League of Legends Star Guardian Ahri skin – in-game video review. Shows off animations, gameplay and ability effects.
Animated Trailer
Voice Line – Star Guardian Ahri
Star Guardian Ahri skin Biography
Ahri is a charismatic captain who leads a team of both new and veteran Star Guardians, from the outer edges of the cosmos. Having experienced the pain of losing teammates in the line of duty, she is viciously protective of her "family," and a strong desire burns within her to ensure no one she cares for ever fades away again. These events have also shaped how she approaches other teams and their captains, especially the less experienced ones like Lux. There's no more room for patience and understanding in her universe—tough love is all that's left. Though that be the case, none are immune to Ahri's own unique charms. – Official Lore in LoL.
It's time we decide our own destiny.

Star Guardian Ahri
Kiko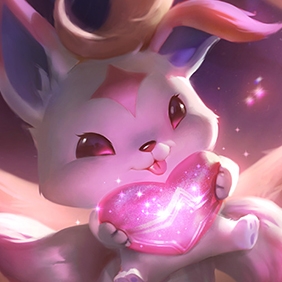 The mischievous Kiko accompanies Ahri as a vulpine embodiment of her charisma… and sass. Even unprompted, Kiko isn't shy about saying how it really feels, though only Ahri can understand its unique language. As biting as the creature's manners can sometimes be, it's not too proud to turn down a good belly rub and cuddle. Just try to refrain from saying, "Aww."
Star Guardian Ahri

Chromas

All available Star Guardian Ahri chromas. Price: 290 Riot Points for each.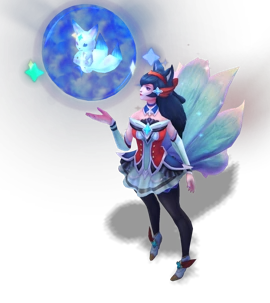 About the creation of the
Star Guardian Ah

ri skin

Tough Love… and Sparkles
Star Guardian Ahri is the leader of this year's team and the recipient of a Legendary skin, so she was designed to shine amongst the stars. For example, all of the other Guardians' outfits are dominated by a single color, but Ahri's is the first to introduce a secondary color. "This helps her stand out but is also a nod to the advanced form of magical girls," says Riot Zeronis.

There was some concern about Ahri having a similar color scheme to Star Guardian Lux, particularly because both of them are leaders of SG teams. "To avoid this overlap, we tried concepting Ahri with cool colors. We were thinking, 'What if she's like the opposite of Lux?'" But ultimately, the pinks, peaches, and purples just seemed like a much better fit for Ahri.

Star Guardian Ahir's lack of whiskers was a tough but intentional choice. Ahri's whiskers seem very youthful, but Star Guardian Ahri is supposed to feel more mature. She's not necessarily old, but she's tired from the world. "Adding whiskers broke that feeling. We even tried doing different toned whiskers in different colors as well as stars and other graphic designs," says Riot Zeronis. "They always felt like they detracted from the elegance and maturity of the skin.

Star Guardian Ahri Concept Art

And finally, since Legendary skins typically include an all-new animation set, there was a chance to make Ahri's tails fluffier and more expressive than ever. There were so many possibilities: What if the tails were different lengths, kind of like fingers on a hand? How should they move in-game? What if she had a different type of animal tails completely? "In the end, we stuck with what would be most familiar to players," says Riot Zeronis.

Only now they're infused with starlight, sparkles, and sass.

Designing the Star Guardians
Skin Concept Art
The process of creating concept art for skin Star Guardian Ahri.